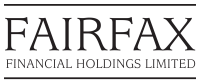 company headquarters
Canada
A Canadian investment and insurance company. One of the largest U.S. bail bond insurers.
Fairfax Financial Holdings is an investment and insurance holding company based in Toronto, Canada. In 2018, the company reported holding over $64 billion in assets and having $17 billion in revenue.
The company is one of the main providers of insurance for bail bond agents in the U.S. It has been identified as one of nine major bail insurers underwriting the vast majority of the U.S. bail bonds in a 2017 ACLU and Color of Change report. Fairfax subsidiaries involved in this industry are consolidated under Crum & Forster Insurance Group and include United States Fire Insurance Company, North River Insurance Company, and Seneca Insurance Company.
In March 2019, Fairfax' subsidiary Crum & Forster bought the bail business of Accredited Surety and Casualty Company, a former subsidiary of Randall and Quilter Investment and one of the largest bail bond insurers in the U.S. As of 2014, Accredited Surety and Casualty Company underwrote 200,000 bail bonds annually for over 1,600 bail agents in 49 states across the country and was ranked third in the nation by the Surety & Fidelity Association of America based on the face value of bail bonds underwrote.
Unless specified otherwise, the information in this page is valid as of
9 August 2019